Manager, Center for Women's History and Academic Affairs
New-York Historical Society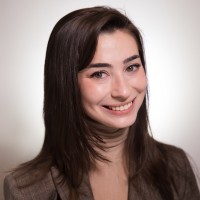 Statement of Interest:
After participating in a recent NYCMER panel about debating the necessity of graduate school, I felt like I found a wonderful community of diverse NYC museum educators and professionals. I've been in the museum field for over seven years and see that there is a space I can offer my insights and share my experiences to a meaningful, transformative cause. Our field is constantly changing and the landscape increasingly difficult to navigate; however, I am confident that I can bring a deep level of empathy and professional development to the NYCMER board and its members. My unconventional background has led to wonderful opportunities across my own institution and beyond, including mentoring graduate students in the CUNY master's program in Museum Studies. I hope to continue to expand my role in this evergreen community which I am eager to collaborate with other members and promote NYCMER's mission.
Goals for NYCMER:
I want to expand NYCMER's reach and professional development. I would leverage my network and further develop workshops, panels, and programs that create transparency and address significant issues relevant to our field. Accessibility, health and safety, and diversity are important areas I hope to work on with NYCMER's board and constituents. There are meaningful initiatives happening across the NYC museum world that could successfully partner with NYCMER; I'd have a critical role in cultivating those partnerships. I believe that developing greater outreach strategies, whether social media or programming, can fulfill NYCMER's mission and make museums more accessible for everyone. 
Professional Experience:
At N-YHS, I organized and managed over 50 public programs and successfully oversaw the implementation and execution of 3 all-day conferences, both in-person and virtually. My program on Pauli Murray was recently picked up by the Washington Post. I liaised the partnership between N-YHS and the CUNY master's program and its practicum course, now with over 100 students enrolled. In 2017, I presented my history thesis at the "Researching New York" conference and served on a panel about local activism. I researched and developed the first women's history-related tour at a local historic house museum, awarded an ongoing NYSCA grant.