2022 NYCMER Annual (Virtual) Conference
This year's theme is Build • Bridge • Belong. Join us in a discussion on community empowerment!
Build towards a culture of welcoming and inclusivity across museums. Bridge the field of museum education with community advocacy and justice. Explore ways to create spaces that inspire an unapologetic sense of Belonging.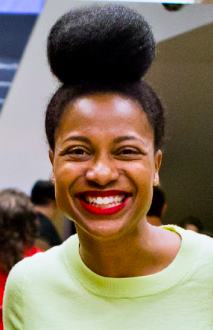 Our 2022 featured keynote speaker will be Dionne Custer Edwards, a writer, educator, and the Director of Learning & Public Practice at the Wexner Center for the Arts. She has been recognized for her contributions to the arts and culture field, to public service, and her commitment to diversity, equity, inclusion, and access. Follow her on Twitter, and join us at 12:00 PM EST on May 16th for her talk!
The 2022 NYCMER Conference will be held virtually, on the Hopin platform. Schedule coming soon.
Ticket Pricing
$95 General public "Not-Yet-Members" tickets available here.
$45 Members Early Bird and $60 Members tickets available by logging in using the Member Portal above, and heading to the Membership Resources page.
$25 Student tickets are available. Email VicePresident@nycmer.org from your student email address with a brief explanation of what you're studying. Membership is not required.
Conference Schedule and Program The full schedule and program are available here. Look for tips on how to use Hopin, our virtual platform, plus lots of details and full session descriptions. And as you prepare, peruse the Expo videos on our YouTube channel - the presenters will be available live during the conference to discuss their projects with you. Bring your questions and ideas, they want to hear it all!
Not yet a member?  Consider joining NYCMER - you'll get access to our resources, events, and you'll save at least $5 on your conference ticket!
Conference Scholarships!  A number of conference scholarships are available by application. All applications must be received by 11:59PM EDT, on Saturday, April 30, 2022. For full details, see the application form here:  https://forms.gle/1LEVwMJfQHKj8H24A
Conference Swag! Want to support NYCMER and look amazing doing it? Click here to purchase your Build • Bridge • Belong NYCMER Tote!

The 2022 NYCMER Annual Conference is made possible by the New York State Council on the Arts
with the support of Governor Kathy Hochul and the New York State Legislature.