Director of Education
Teatown Lake Reservation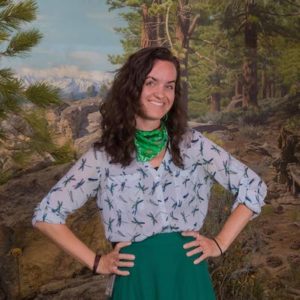 Statement of Interest:
NYCMER has been an invaluable source of community and collective wisdom for me over the course of my career in informal education, whether in the form of lectures, peer groups, or the annual conference. I am interested in joining the NYCMER leadership team as a way of giving back to a community that I am deeply grateful for. I have worked with a wide variety of audiences at institutions including the American Museum of Natural History, the New York Botanical Garden, and now in my role as Director of Education at Teatown Lake Reservation in Ossining, NY. I bring knowledge of conference production as a second year NYCMER Conference Committee member, and I also sit on the Steering Committee for the Regional Environmental Educator Day conference, which took place January 20 in Stamford, CT for 135+ educators. I have more than fifteen years of experience in informal education as well as a passion for expanding access to the field to the board.
Goals for NYCMER:
I hope to further NYCMER's mission of connecting colleagues for essential conversations about museum education. I would like to support our capacity to organize and hold these events, whether in person or virtually, as we resume more normal operations in the coming year. I admire the work NYCMER has done in the area of salary transparency and hope we can continue to advocate for equity and access to the museum field. Our conference is an excellent opportunity to build community, advocate for change, and broaden NYCMER's organizational reach.
Professional Experience:
Current Director of Education at Teatown Lake Reservation, a 1,000-acre nature preserve and education center in Ossining, NY. I steer the Education Department's work in serving family, adult, and youth audiences. Previously, Manager of Elementary Education at AMNH. Contributed to the design of the Family Learning Zone, part of the new Gilder Center for Science, Education, and Innovation, and the redesign of the Seismology Lab in the Discovery Room.