Public Programs Manager
American Museum of Natural History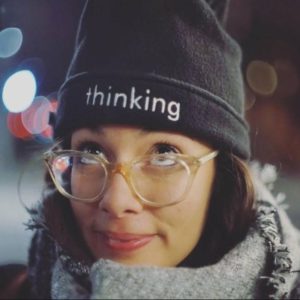 Statement of Interest:
This was my first year on the NYCMER Board, and what a challenging year it has been—for both NYCMER members and for NYCMER at large. As the current Events and Jobs Postings Coordinator, I've honed in on two projects that I wish to further develop if given the opportunity of another term. The first is job solicitation. It has been an incredibly difficult year for job postings, as the demand has never been higher and the supply fewer. Over the past few months, I've been working hard to directly solicit job positions from listings I've found elsewhere–and to more actively and directly solicit jobs from our NYCMER network via social media initiatives. The second is streamlining how we build and maintain our outreach contacts.
Goals for NYCMER:
My goal for NYCMER as an organization is for NYCMER to continue to both reflect and act the way museum educators/professionals wish their own institutions' leaders to lead and act. Through NYCMER's actions, statements, diverse and inclusive board representation, bylaws, programmatic calendar, salary transparency and more—my goal is for NYCMER to continue to provide museum leadership a living, working example of the changes and practices museum professional wish to see and participate in, in their own places of work.
Professional Experience:
I've worked for AMNH for 5+ years in the Public Programs Department and for the Margaret Mead Film Festival, and interned two years before that. In addition, I've worked for the Cooper Hewitt and ESI Design, and interactive exhibition design firm. Most recently, I have begun producing virtual events for various clients on a project basis, mostly in StreamYard. I've presented several times at the NYCMER conference, and most recently as moderator Con Las Puertas Abiertas monthly NYMCER program.
Specific Skills:
StreamYard expert and extensive experience running large-scale Zoom events (meetings and webinars).
Optional Links: