Archivist and Curator of Research Collections
The Explorers Club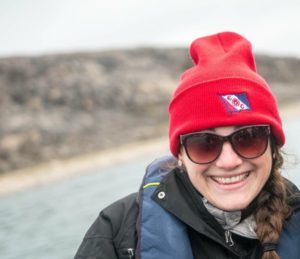 Statement of Interest:
I have enjoyed serving as the NYCMER Archivist for the past 4 years and would love to continue working with the Board in this capacity. Having the opportunity to connect with colleagues, plan programs, and be a part of the museum education conversation has been a rewarding experience and broadened professional horizons.
If re-appointed, I would continue archival organization initiatives after having digitized the collection and maintaining and streamlining the NYCMER Google Drive. I would work towards integrating relevant archival materials into our new website, and increase accessibility to NYCMER's past. I also hope to continue Governance the planning, implementation, and analysis of best practices to help facilitate smooth transitions within the Board.
Goals for NYCMER:
NYCMER has strived to be a constant for many in the field during these unprecedented times and continued to provide resources, engagement opportunities, and programming to our membership and beyond. Adapting to virtual programming has increased NYCMER's accessibility and reach, and I'd love to see that continue into the future, even after the return to in-person programming. NYCMER is constantly growing and evolving and I would like to help build on that momentum by continuing to foster engagement through our online platforms and expanding NYCMER's presence in the field.
Professional Experience: 
Professional/Education:
NYCMER Archivist (June 2017-Present)

Archivist and Curator of Research Collections, The Explorers Club, NY (2014-Present)

Collections Information Team, Royal Collections, UK (2013-14)

MA Museum Studies (Concentration: Gallery Education, Communication and Design; Subspecialty: Archival Management), University of Leicester, UK

BA History and Education, NYS Certification grades K-12 (History and Special Education), Wagner College
Relevant Presentations/Projects/Misc:
Documentary Heritage and Preservation Services of NY (DHPSNY) Conference

University of Delaware, Winterthur Conservation Education Conference

"Not Real Art" podcast: Rethinking the Role of Museums (May 2020)

NYCMER Bylaws update (FY 2020)

NYCMER 40th Anniversary Program
Specific Skills:
Archival management (both digital and paper-based), Collections management, data integration systems, virtual and in-person program planning.
Optional Links: