Coordinator of New York City History Day
Center Brooklyn History - Brooklyn Public Library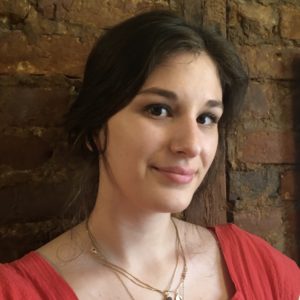 Statement of Interest:
I first wanted to get into Museum Education because of dinosaurs, but I've stayed because of the people I work with. NYCMER is the best representation of how educators can be flexible, outgoing, advocates who care deeply about their work and each other. My time as NYCMER Vice President has been extremely rewarding, I hope to continue to support the board and the work NYCMER does as a Trustee-at-large. In my time on the NYCMER Board I've learned new skills and met wonderful people who are passionate about their work and making museums more inclusive and accessible. I want to continue to have conversations that push the limits of this field and inspire me to be a better educator. I want to be more involved and help others on their path.
Goals for NYCMER:
I found a welcoming community in NYCMER and I hope to continue to build relationships with other museum educators and create more channels for connection between different institutions. I've learned a lot on the conference committee and want to support the incoming Vice President, while expanding my own work within the organization. I think that education is in a state of flux and museums are such a valuable resource. Educators can lead the charge with how museums change and adapt to the needs in society, I'd like to see how NYCMER continues to be a supportive space for these conversations.
Professional Experience: 
I hold a Masters in Museum Education from Bank Street College of Education and a multidisciplinary Bachelors in art, anthropology, and media from CUNY BA. I am an Educator and Coordinator for New York City History Day at the Brooklyn Public Library's Center for Brooklyn History. I am currently in my second year as NYCMER Vice President and was on the Conference Planning Committee before that. I have been an educator at the Old Stone House of Brooklyn and the New York Transit Museum. I have done work at many other institutions around New York City.